I recently had the pleasure of presenting at the Bilderberg International Goalkeeping Conference in Garderen, Holland.  Having been to the conference as an attendee, I knew the level of coaches in attendance was extremely high.  With this in mind and after discussion with the organizer, Maarten Arts, I was asked to do a theory session on Goalkeeping in America and then do a field session on "Efficiency in Goalkeeping, paying attention to the details".
In my preparation to go to Holland, I was fortunate to get some great data from MLS and National Team programs that allowed me to give clear examples of the DNA of the american goalkeeper.  I wasn't sure how much interest there would be in the information from the audience but, nevertheless, I was asked to present on that topic and did the necessary research to give the attendees a clear picture of the challenges of player identification, consistent training, coaching education and the pathway for goalkeepers to go from the youth game to National Teams.
My trip didn't start too well as my first flight was delayed for 5 hours and made the connection a little tighter.  After arriving in JFK (New York) I was then put on an earlier flight to Amsterdam so I ended up only having one hour in the airport before flying to Holland. After a smooth flight, good food and 3 movies, I arrived in Amsterdam just in time to grab some fresh croissant and a great cup of coffee before heading to Gardenen with Hans Van Der Beek, who kindly drove to meet me and take me to the hotel an hour away.
After a great workout and breakfast, the attendees began to arrive and file into the lecture hall as Maarten Arts opened the conference.  Looking at the audience I saw the goalkeeping coaches from many of the top professional clubs in Holland and Belgium as well as coaches from Estonia,Kuwait, Greece, Azerbaijan and more.  Some notables in attendance were former Man Utd goalkeeper and current GK coach for Vitesse, Raimond van der Gouw and former Belgium International Filip De Wilde.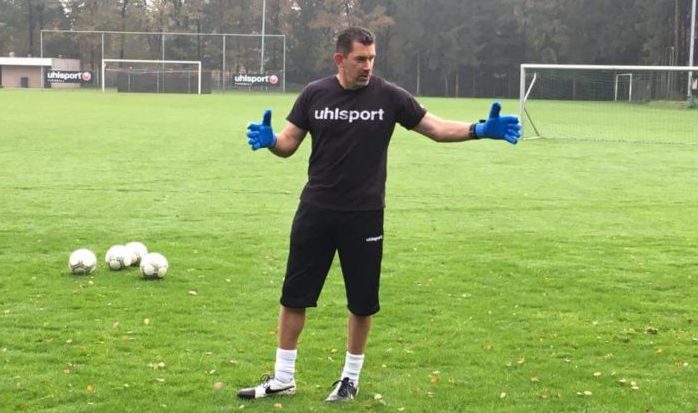 After presenting on "The State of the Goalkeeping Union in the US," we moved outside to the field to work with 4 goalkeepers on developing "Efficiency in Goalkeeping."  The ages of the keepers ranged from 16 – 27, quite a mix and quite a challenge but the session went well and provoked some thought and discussion on different techniques and approaches to training.  I used a series of handling and footwork exercises as well as the FITLIGHT training system in the session and the feedback was very positive.  After the session, there was discussion about diving technique, hand positioning, the set position and other goalkeeping techniques.  It is always great to talk goalkeeping and get ideas from other coaches in other countries.
That evening former Belgium International and current Belgium U21 GK coach, Filip  De Wilde presented on role and development of the goalkeeper coach – very interesting and, while presenting, Filip shared a similar goalkeeping philosophy to mine so it was good to be on the same page as a goalkeeping great like him.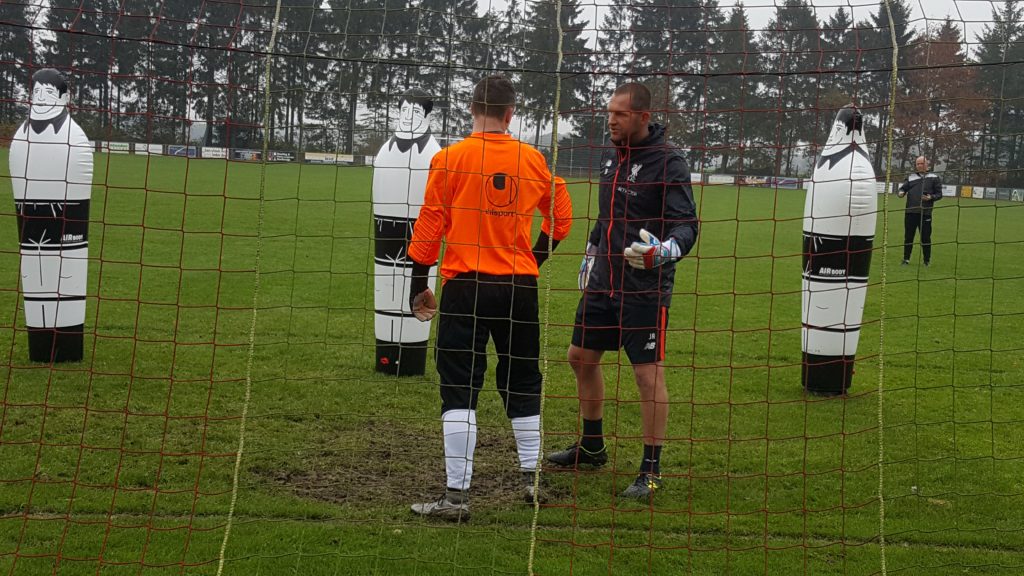 On day two of the conference John Achteberg, the goalkeeper coach for Liverpool FC did a lecture and field session on game preparation.  It was very interesting to see what the goalkeepers at Liverpool do to prepare for a Premier League game.  I really appreciated John's approach and candor, especially since I was able to chat privately with him the night before about his approach.  The nightcap session was from Jose Sambade.  It was interesting to see his unique and innovative approach to goalkeeping.  Jose has a great reputation and his session was centered around decision making for the goalkeeper in different scenarios.  I have shared some clips of Jose on Instagram.
The closing day of the conference saw Maarten Arts show his unique approach to scouting goalkeepers internationally.  His projects in Kenya and Egypt were really enlightening and the exercises he uses to identify and separate keepers, based on a rating system, were very interesting.
Unfortunately, I wasn't able to see the conclusion of the conference as I had to get to the airport for an early flight.  All in all the experience of presenting in Europe and then watching some of the top coaches in the game was great.  I feel it's always good to test yourself as a coach and to get outside of your comfort zone.