Having arrived in Florida three days before to make sure things were ready to go, I spent the final hours 
on Thursday counting, sorting and anxiously awaiting for the confirmation that staff and presenters flights were on time. 
Despite all the best laid plans, things behind the scenes don't always go as you would like, but luckily the airlines were kind to us and everyone got in safely.  Michael Rechner had arrived on the 
Wednesday
 so I was lucky enough to spend some time with him discussing goalkeeping over dinner.
Thank You's Come First!
One of the keys which I live by is: "Surround yourself with good people and good things will happen".  I didn't really say this enough while we were all together, but the team of Michele, Peter and Scott were amazing and did so much to make the event a success.  Their work behind the scenes for months before was such a help and the event could not have run as smoothly as it did without them – THANK YOU, YOU ARE AWESOME!!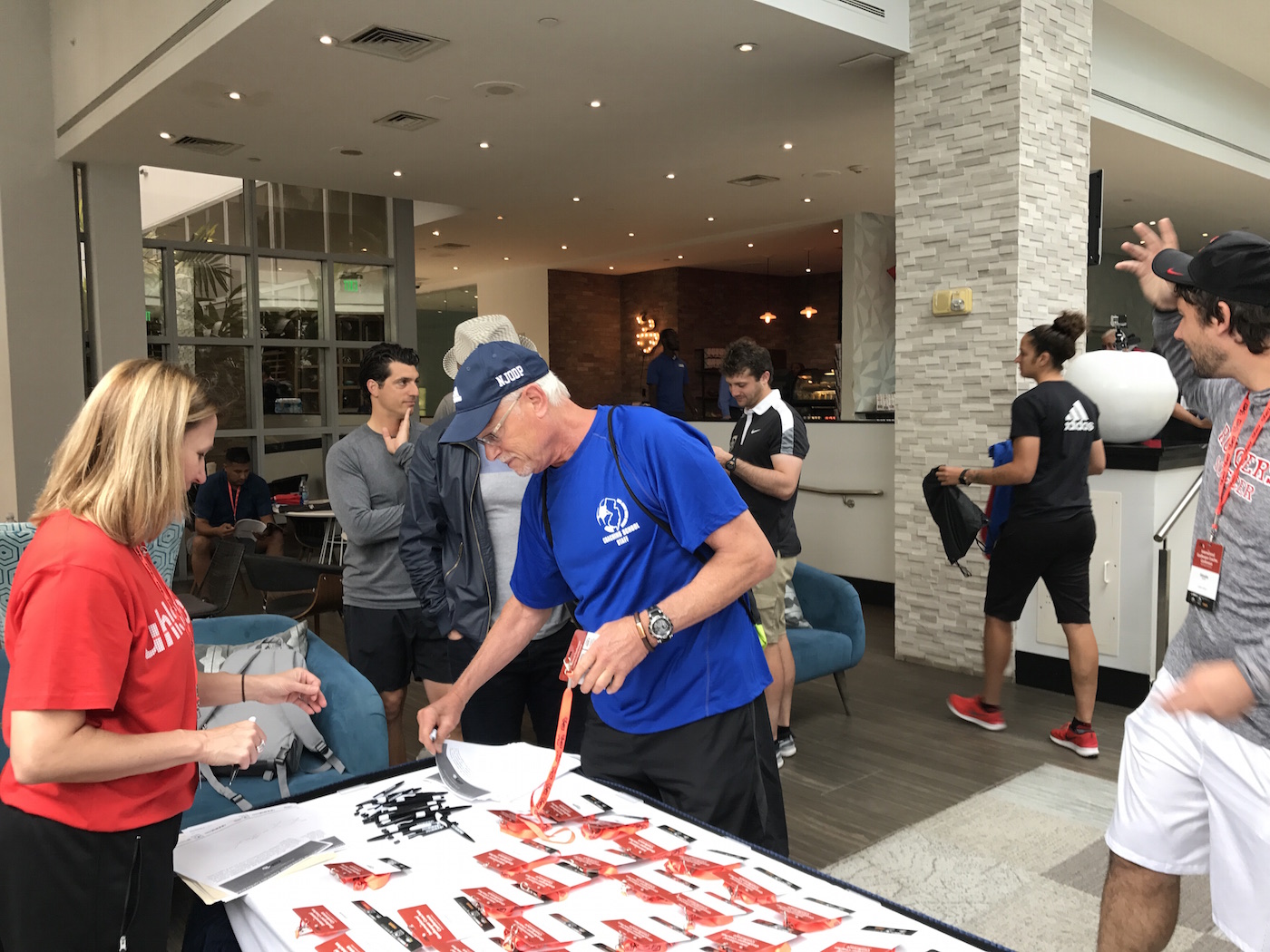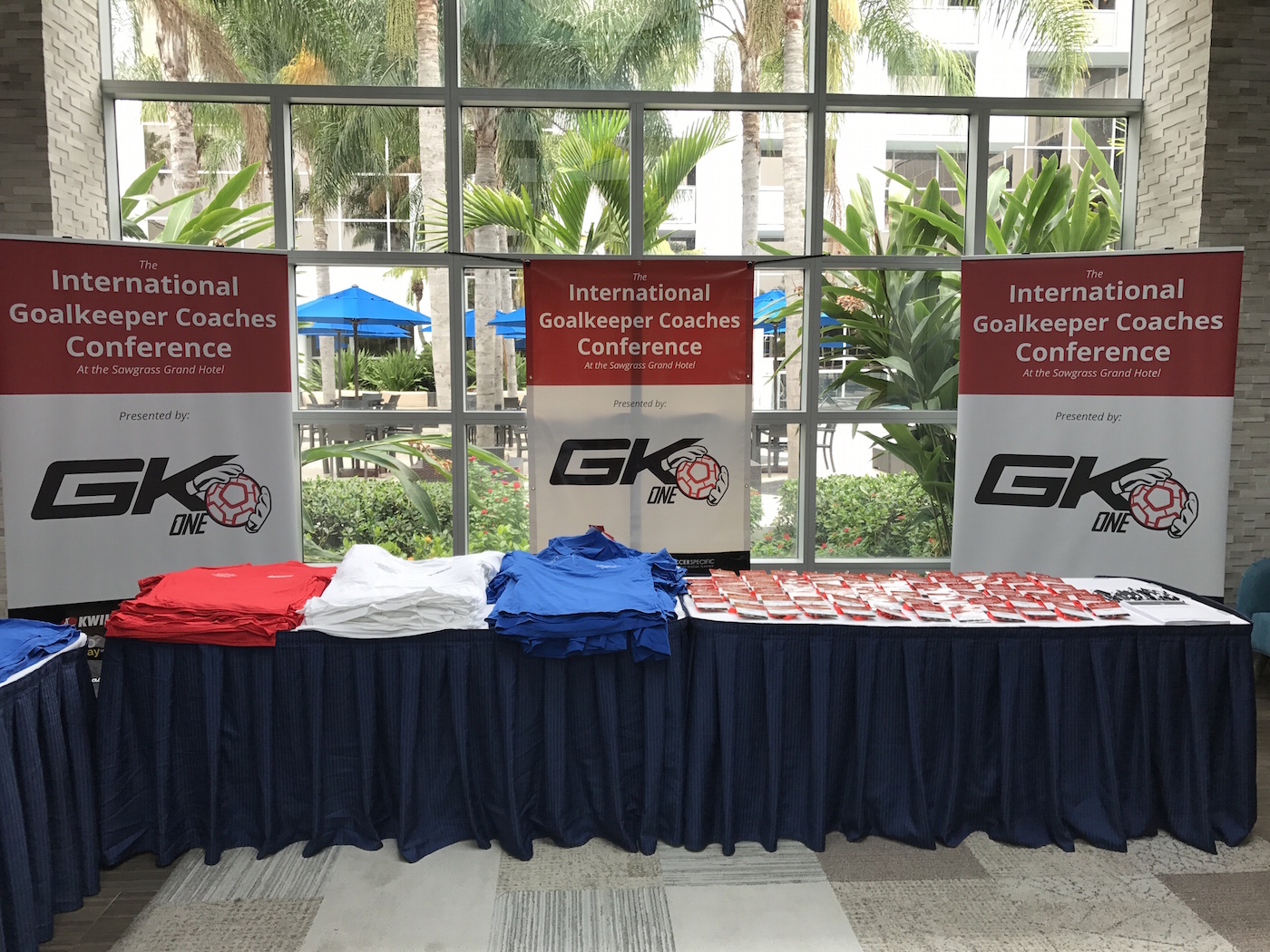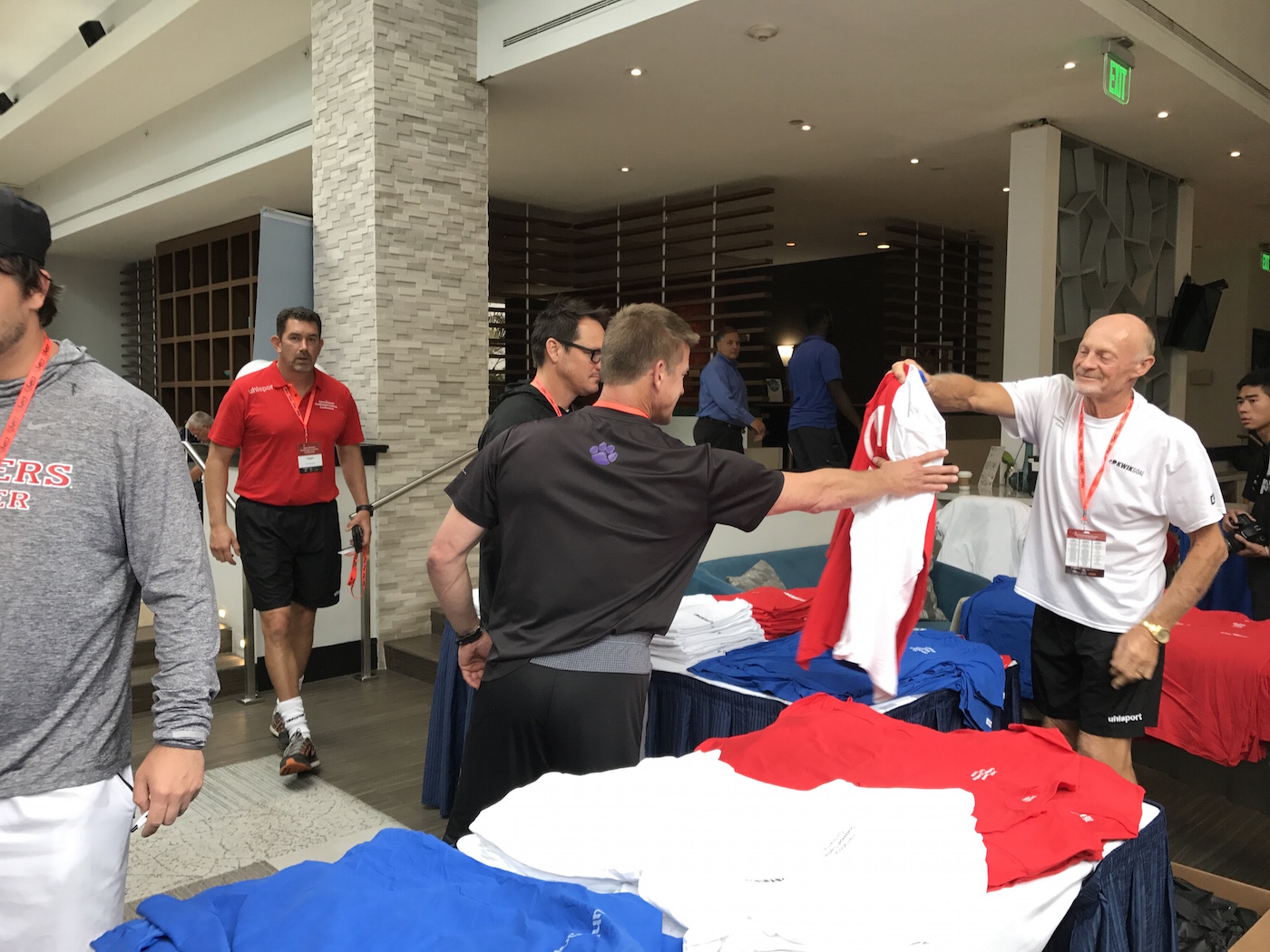 In addition to the support team, 710 Studios and Heather in particular were phenomenal.  The attention to detail and help from the announcement of the event to the completion was incredible and, if you are ever looking for help with social media, digital marketing, etc I recommend them wholeheartedly. Having Sierra and Austin there to help with video and capturing the event was a massive bonus as well. (Attendees, you should be receiving links to the field sessions in the next few weeks).
What about the sponsors? Well, having great sponsors is essential and the group of sponsors that supported me through the event were tremendous and are the best in the business, THANK YOU to Uhlsport, Kwikgoal, SoccerSpecific, GoPlay Tours and Catapult for your continued support.
Presenter 1: Michael Rechner
Back to business: sitting with Michael at dinner on Wednesday evening, I knew the event would be great.  I have communication
with all of the presenters for many months leading up to the conference, but sitting face to face and talking about goalkeeping makes everything worthwhile.  The goal of the IGCC is for everyone to have the ability to learn and share experiences in goalkeeping.  Discussing Michael's vision and methodology that night highlighted the whole purpose of the event.  "This is different" I thought "I can't wait to see him on the pitch".  He didn't disappoint at all, what a great coach, great educator and an even better person!
As well as sharing information and experiences, the presenters that are brought in are expected to challenge the norm and stimulate thought and discussion.  The great thing is that we may or may not agree with methods, exercises and philosophies but that doesn't mean it's wrong.  Some of us prefer more traditional methods, some more unconventional methods – neither is right or wrong.  As long as the ball is not in the back of the net, the methods work!
After the opening remarks and seeing so many respected colleagues in the room, my expectations were that the event could be huge purely on the level of coaches in attendance.  Michael's presentation in the classroom gave us all great insight into his methodology and the reasons for what he does.  The field session, in my opinion, was even better and I was thrilled to be able to assist Michael, as he had just had surgery and wasn't able to serve.
The 1v1 situation that Michael presented is a unique situation with many variables and occurs in every game that is played, whether an actual save is made or not.  One of the key things that Michael pointed out in his methods and practices was that a coach must get the distances, angles and pace of service correct when trying to recreate sessions.  I have seen countless coaches copy his session but get the distances and movements wrong. What's wrong with this? Well, we will have goalkeepers trying to apply a blocking save from 12 yards away when another technique would be more appropriate.  Coaches must make sure that the techniques are applied in the right situations so that our goalkeepers are being effective and efficient.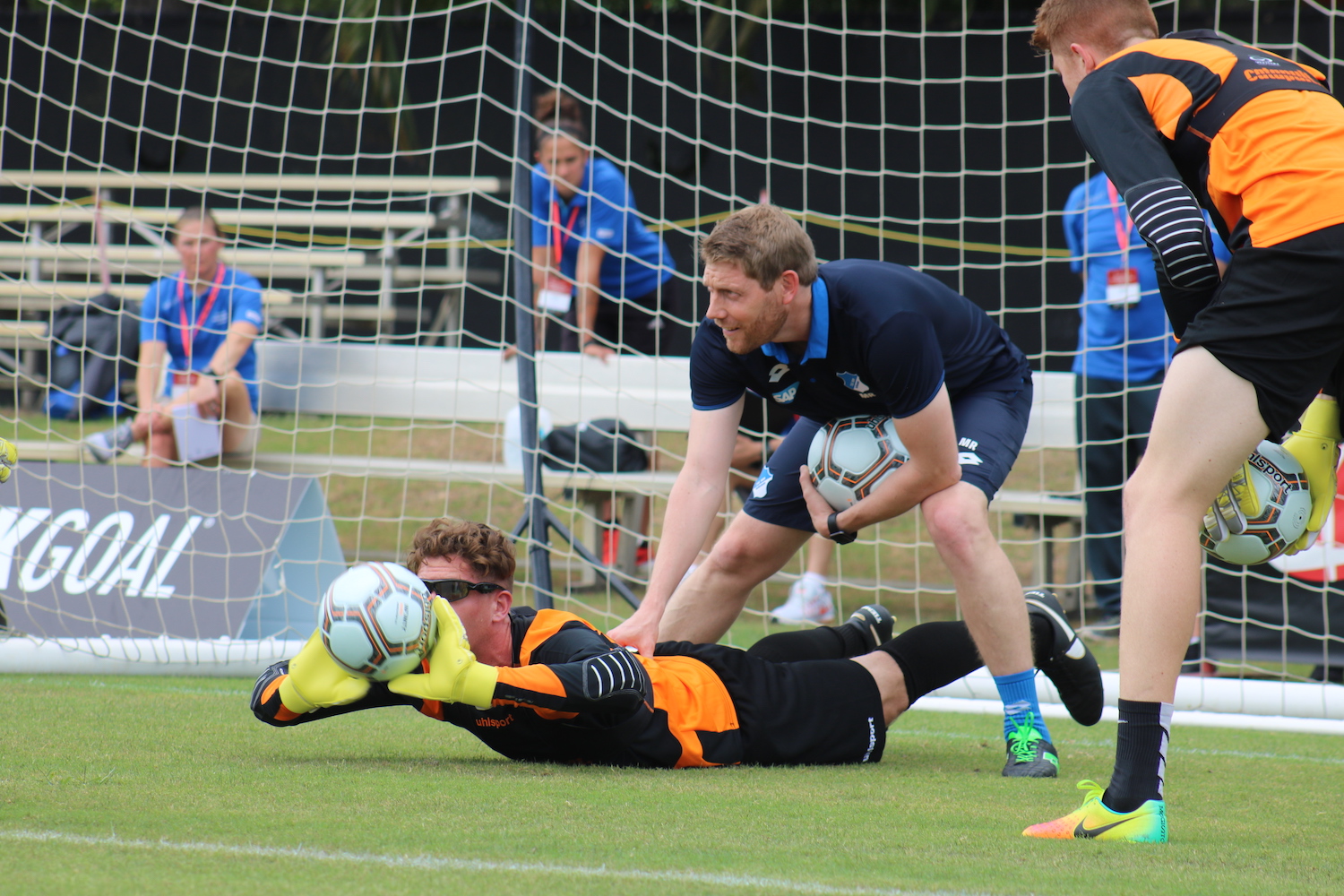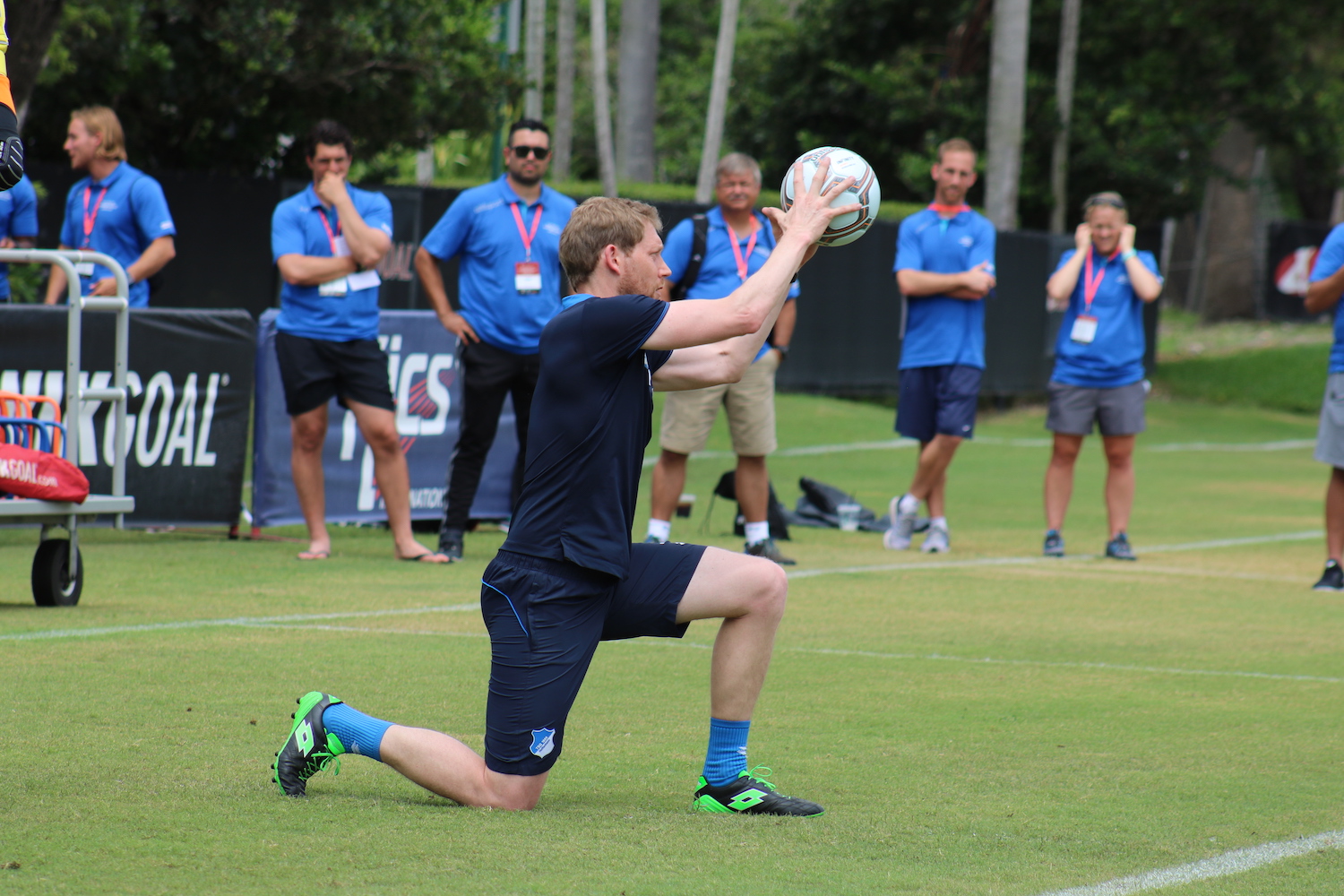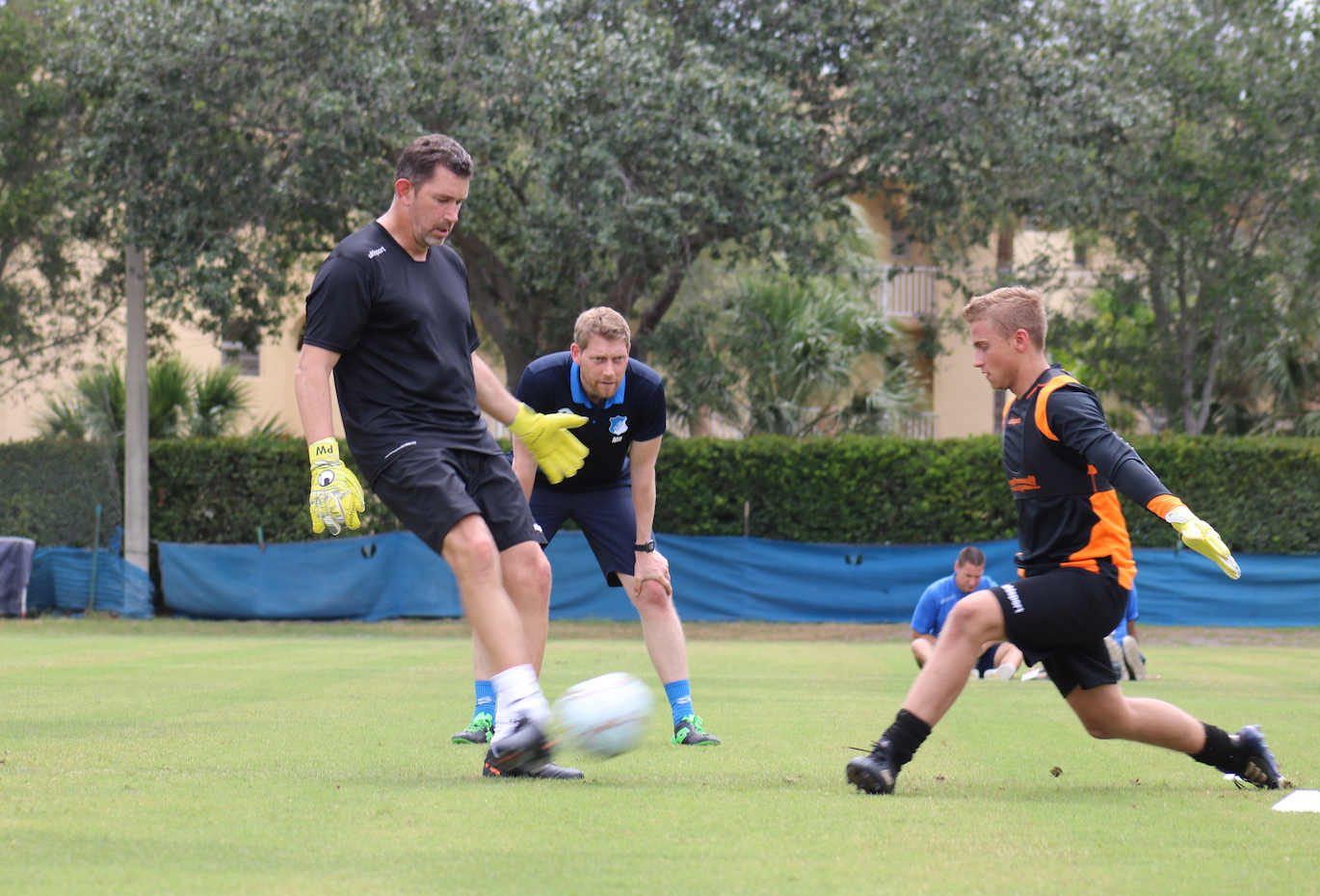 Continue to Evolve!
I have been fortunate to have numerous conversations with Michael about his methods and have tried some of his techniques with keepers at all levels.  I did discover that, as coaches, we must be flexible enough to demonstrate – how are those hamstrings? lol
I know that we all continue to watch and learn, as the game evolves so must we.
Share your thoughts on the first day with Michael Rechner. Have you started using any of his methods?